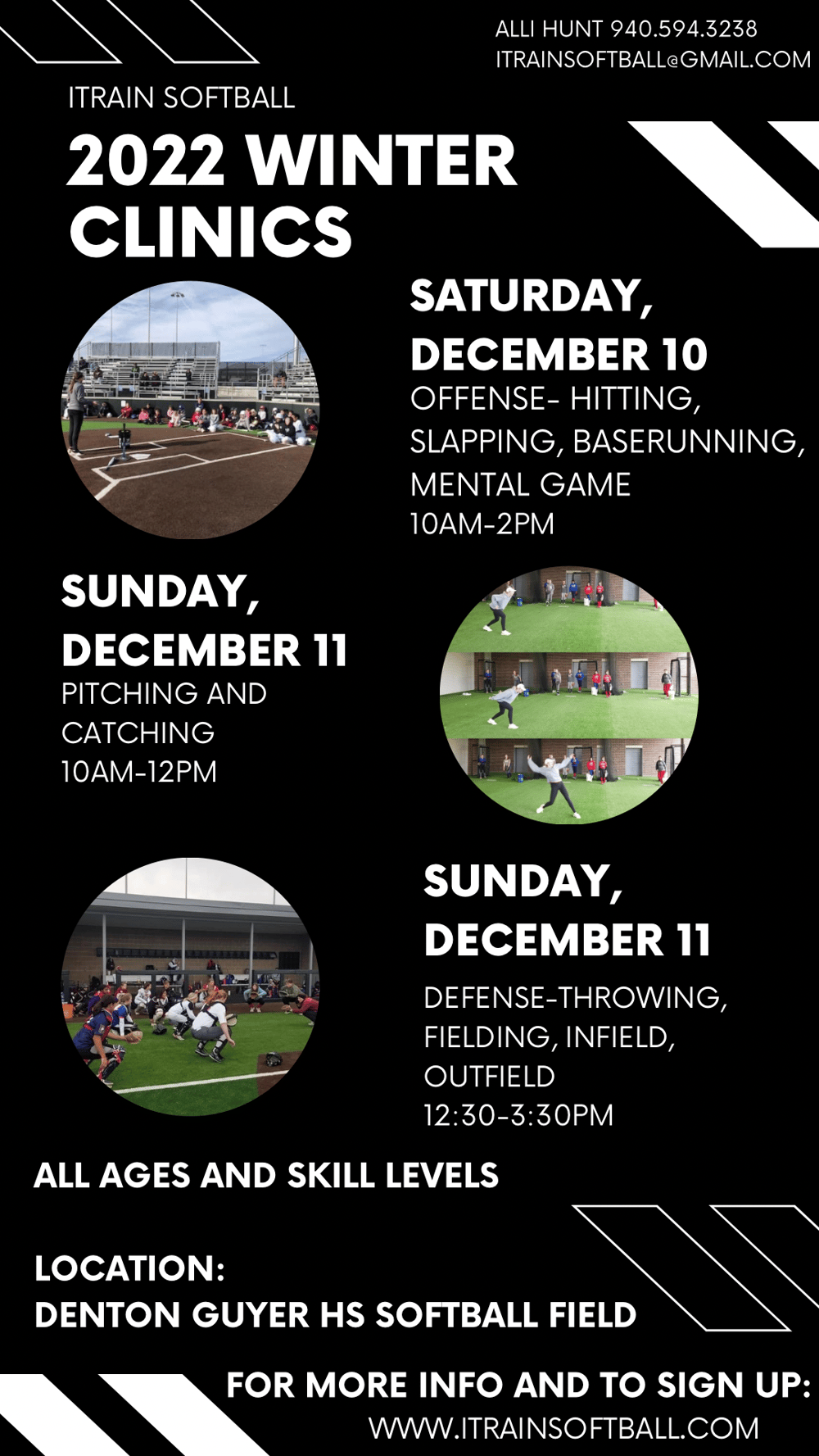 ---
2022 Winter Clinics are here!
We only do these ONCE per year, so don't miss 'em!

All coaches are iTrain Softball Instructors and former college softball players. If you already train with us, this is a great chance to practice new skills and further your skills in a new setting. If you don't already train with us, this is a great chance to see what we teach, how we teach it, and get some great work in!

Coaches:
Alli Hunt- University of Missouri
Kristin Smith- USAO/Vernon/TWU
Hailey Winter- Louisiana Tech University
Kelsey Vining- University of Montevallo/USBA Pro
Taylor Goulet- Texas Women's University
Bailey Turner- Texas Women's University

Who:
ALL ages and ALL skill levels. Players will be divided into groups by age/skill level/positions during the sessions.

When:
When: Saturday, December 10th
10am-2pm: Offense- hitting, slapping, baserunning, bunting, mental game

Sunday, December 11th
10am-12pm Pitching and Catching- divided skills and then paired up
12:30-3:30pm Defense- throwing, fielding, infield/outfield

Where:
Denton Guyer High School Softball Field (across the street from our facility)

What to Bring:

*IMPORTANT* - This is on turf. Everyone MUST wear tennis shoes, turf shoes, or molded cleats ONLY. No metal spikes!! No exceptions.
- Glove
- Bat (suggest bringing an old bat or aluminum bat if it's cold)
- Batting gloves (if worn)
-helmet
-Face mask (if worn)
- Wear WARM clothes (layers). This is outdoors and may be cold.
- Water
-Food- We will take a short break to eat on Saturday and there's a gap between clinics on Sunday.

Pricing:

$140- Offense only (1 clinic)
$70 Pitching/Catching only (1 clinic)
$105- Defense only (1 clinic)


$220- Offense AND Defense only
(2 clinics- no pitching/catching)

$280- All Three Clinics- Offense, Defense, & Pitching/Catching


Payment Details:

please send via
Venmo: @itrainsoftball
Or
Zelle: 9405943238

Payment is due at time of signup

*Must be paid within 48 hours of signup or spot will be dropped. Refundable until 1 week before clinic. After that, it's non-refundable. If terrible weather is unavoidable, we will find an alternative date or cancel and offer a refund.


Learn from the best! Space is limited. Sign up today!


For questions email [email protected] or call/text 940-594-3238.